---

GMMK Numpad Black Slate

---
GMMK Numpad White Ice


---

Notable Features:
Powerful Bluetooth 5.0 LE connectivity

Compatible with PC, laptop, phone, tablet, macOS and more

Enjoy up to 76 hours of battery life

Dual Wired/Wireless modes w/ USB-C charging

Personalize its look with alternate top frame, slider, knob, switch plate, and badge options

16.8 Million Per-Key RGB

Signature side lighting panels

Transparent Glorious Fox switches ensure bright and accurate backlighting

17 programmable keys, plus a clickable rotary knob and versatile slider

Assign time-saving macros and shortcuts via Glorious CORE software

QMK Compatible

Use the slider/knob to control separate audio channels

Full-metal, CNC machined, anodized aluminum body

5-Pin Hotswap PCB (North Facing default; South Facing optional add-on)

ABS Doubleshot shine-through keycaps

Pre-lubed Glorious GSV2 stabilizers

Gasket-mounted switch plate design

Sound dampening foam for superior sound

6° Typing angle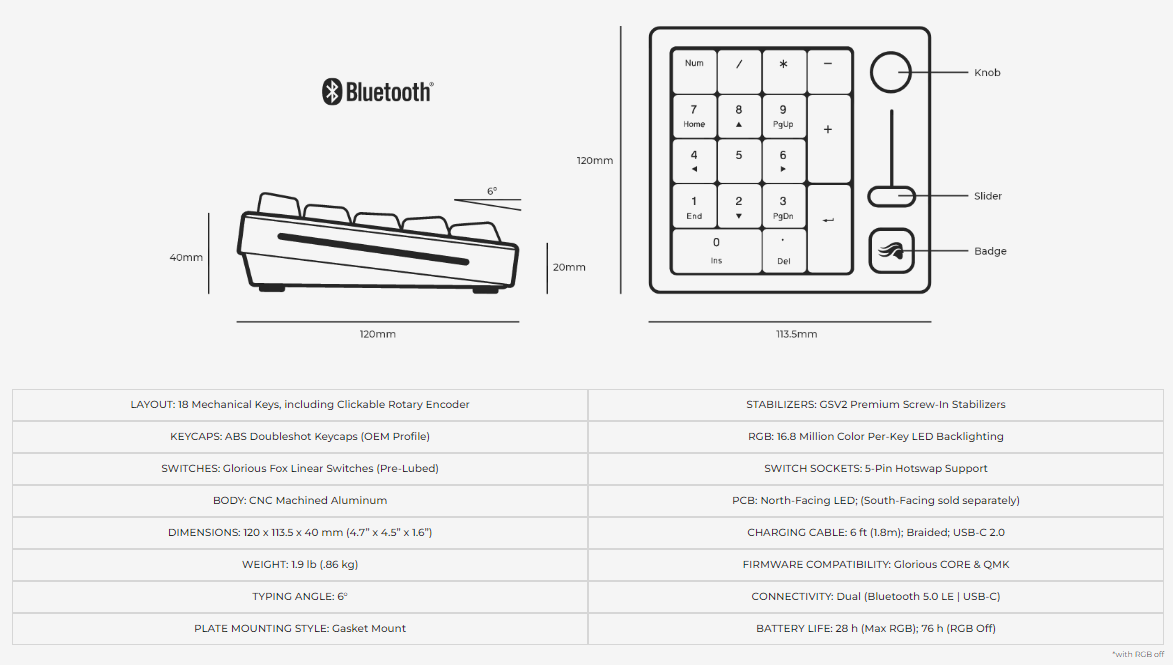 ---

Included In The Box
1x GMMK Numpad (Prebuilt)
1x Keycap Puller Tool
1x Switch Puller Tool
1x USB-C Charging Cable (6ft / 1.8m)
---

Frequently Asked Questions:

Will the GMMK Numpad be available on Amazon?
No, at launch the GMMK Numpad will only be available through the gloriousgaming.com website and our international partners.
Is the Hotswap PCB North or South Facing?
The GMMK Numpad comes default with North-Facing LEDs, which offer maximum RGB shine through and brightness. However, we also offer a South-Facing PCB sold separately for those who wish to modify their boards to their preferred orientation and compatibility.
Can the GMMK Numpad be used in wired mode too?
Yes, the GMMK Numpad can be used both wired and wirelessly. A braided USB-C charging cable is included in the box.
Can I pair the GMMK Numpad to my mobile device, tablet, MacBook, etc.?
Yes, the GMMK Numpad uses Bluetooth 5.0 LE technology and pairs with most compatible devices. However, certain features require Glorious CORE software to be installed on the device to function properly.
Do I need a dongle to pair the GMMK Numpad wirelessly with my device?
It depends on your device. Some desktop PCs may lack a Bluetooth receiver, which is required for pairing. If your device does have a Bluetooth receiver, then no dongle is required. Note: This is not the same technology as our 2.4Ghz wireless mice.
What can I control with the slider and rotary knob?
By default, both control system volume. However, you can reprogram both inputs to control separate audio channels via Glorious CORE software. Only the rotary knob is capable of channel switching through the use of optional keyboard shortcuts. At this time, reassigning the slider must be done through Glorious CORE. More functions are coming soon for the slider and knob – please don't hesitate to send us your suggestions on social media!
Do I need to own a Glorious Keyboard to use GMMK Numpad?
No, GMMK Numpad is its own device with its own Glorious CORE integration. It does not rely on other Glorious products to operate.
Do all Glorious keycap sets fit the GMMK Numpad?
Yes, no add-on kits required. This includes both ANSI and ISO versions.
Does the GMMK PRO's rotary knob fit the GMMK Numpad?
Yes, they are the exact same product.
Does the GMMK Numpad use GSV2 stabilizers?
Yes, the GMMK Numpad comes with pre-lubed GSV2 stabilizers and accepts most third-party screw-in options.
Does the slider require a tool to replace?
No, replacing both the GMMK Numpad's slider and knob is quick, easy, and tool-free.
Can I install my own accent badge?
Yes, you can replace the accent badge with one of our options or any badge of your choice that fits. Requires disassembly of the GMMK Numpad. We recommend a Phillips #00 screwdriver.
Will you offer other badges in the future?
That's the plan!
Does the GMMK Numpad have a battery level indicator?
Yes, the GMMK Numpad has a battery level indicator which is displayed on the side lights of the device.
This option is toggleable and enabled by default in Glorious CORE. Please note this option will override any dynamic or static side lighting on any layer.
The side lights will show one of the following colors depending on how much battery charge is left on the device:
0% - 25%: Red
26% - 60%: Orange
61% - 90%: Yellow
91% -100% (Fully Charged): Static Green

---
Related Articles:
---